Sznurki Outlet is a post-production outlet of the best Polish brand of versatile cotton cords for weaving macrame and more.
What is macrame?

Macrame – the art of tying cords without the use of tools. The cords are braided by hand. In the Middle Ages, this method was mainly used to decorate royal robes; in later centuries, it was also used to make covers for beds, sofas and armchairs. The technique became popular again in the 1970s. Working with cotton cord you can weave an unlimited number of accessories.
What can you make from cotton cord?
plant hangers
jewellery
macrame wall hanging
bags
backpacks
lampshades
table napkins
mug coasters
blankets
mascots
Macrame decorations will warm up any interior and add an individual touch.
That's not all!
With our threads you can confidently make colorful toys for your baby,
pet toys including sniffing mats, chews. Why? Because all our products are completely safe for children even under three years of age, as they do not contain harmful substances in amounts that negatively affect human health, which is confirmed by the OEKO-TEX certificate. We are the only company in Poland awarded the certificate for the whole range of our products.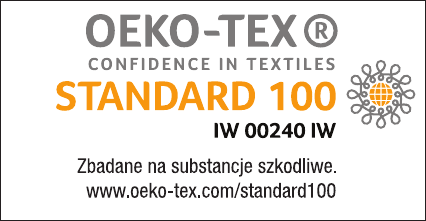 What are our cords like? Here's a list of benefits:
nice to touch
eco-friendly
durable
undyed
Polish
safe
biodegradable
Drawbacks?
They disappear quickly :)
When you choose our cords, you can be sure they are organic and Polish. We are a manufacturer, not an intermediary, which makes us very attentive to the quality of our products.
You can do virtually everything with our eco-friendly cotton cords. A hammock, a deck chair, a Moses basket, themed ornaments and decorations for parties, unique curtains, eco-friendly shopping bags, and maybe even lightweight, fashionable summer clothing? You can play with colors and combine different thicknesses and textures.
We manufacture our cords in Poland, thus reducing our carbon footprint. The colors of our cords are inspired by nature, which is very close to us. That's why our production process is cruelty free. One of our missions is to care for the environment, so we find it incredibly valuable to be able to reuse cotton fibers.
All the products you purchase are 100% biodegradable. We use paper sleeves, recyclable cotton, and our labels are made of paper.
Braided or twisted cords? Choose your favorites and enjoy good quality at a low price.